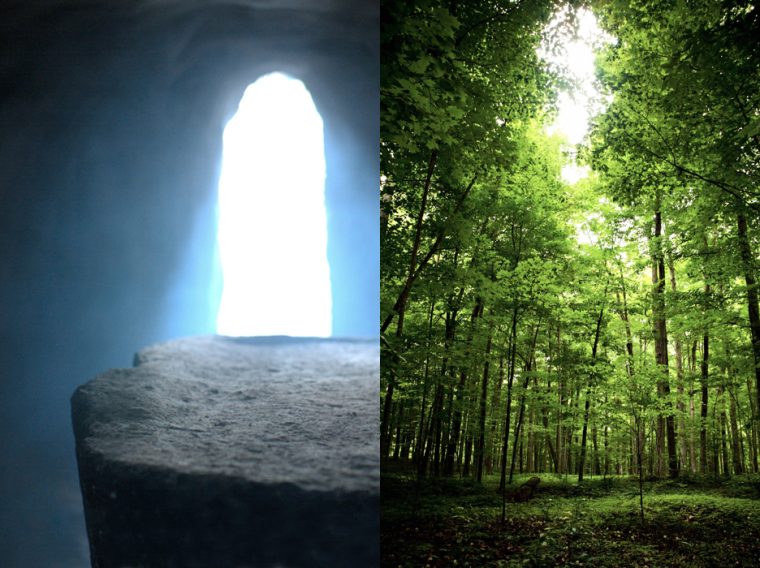 The Tomb
In the what is today the first book of the New Testament we have an interesting account at the very end of Matthew. Here, it appears that Matthew is attempting to debunk an anti-Christian rumor that was going around concerning the resurrection of Christ.
Now when they were going, behold, some of the watch came into the city, and shewed unto the chief priests all the things that were done. And when they were assembled with the elders, and had taken counsel, they gave large money unto the soldiers, Saying, Say ye, His disciples came by night, and stole him away while we slept. And if this come to the governor's ears, we will persuade him, and secure you. So they took the money, and did as they were taught: and this saying is commonly reported among the Jews until this day. (Matthew 28:11-15)
According to Matthew a common explanation for the missing body of Christ was attributed to fraud committed by his followers.
Is it really that far of a stretch to believe that among Jesus' closest confidants and hundreds of followers that someone might have stolen his body in an attempt to somehow "prove" the resurrection? Or that the remaining apostles could have fabricated the story of the resurrection in order to keep the movement going and save face? Isn't this the simplest explanation if you don't accept the reality of miracles or the existence of God?
In the case of the Latter-day Saint claim that God restored his Church to the earth, a skeptic might ask
why it took approximately 1700 years for God to initiate the restoration of the Gospel after this alleged apostasy that was said to have occurred. Perhaps a Latter-day Saint might respond, "God has his own reasons for things".
Along the same lines, consider the timing of the birth and ministry of Jesus Christ. Starting from at Adam and Eve, why did it take approximately 4000 years for God to send the Messiah to the earth? A believer might answer, "God has his own reasons for things".
If we transition from the tomb to a grove of trees on a family farm in 1820 where Joseph Smith claims that he saw God the Father and the risen Jesus Christ, we are presented with a situation quite similar to the original claims of people "seeing" the risen Lord.
In the New Testament you might be surprised to see how often Jesus Christ was said to have manifested himself to people following his resurrection:
He appeared first to Mary Magdalene when she was alone at the tomb (John 20:11-18)

To "certain women" the other Mary, Salome, Joanna and others as the returned from the tomb (Matthew 18:1-10, Mark 16:1-8, Luke 24:1-11)
To Peter (Luke 24:34, 1 Corinthians 15:5)
To two disciples on their way to Emmaus (Luke 24:13-35, Mark 16:12,13)
To ten of the apostles and others on the day of the resurrection (John 20:19-24)
To the apostles when they are out fishing (John 21:1-23)
To the apostles and over 500 people (1 Corinthians 15:6)
To James (1 Corinthians 15:7)
To the apostles before the ascension (Mark 16:19, Luke 24:50-52, Acts 1:4-10)
To Stephen in a vision, standing to the right of God the Father (Acts 7:54-56)
To Paul at Damascus (Acts 9:3-9, 17, 1 Corinthians 15:8, 9:1)
And other possible appearances (Acts 1:3)
The Problem
Sounds like an open and shut case. With hundreds of witnesses to the resurrection of Jesus Christ there can be no doubt, right?
One problem; there is no original collection of affidavits from these hundreds of witnesses: we only have the words of a few men to trust that these things actually happened. Only three authors were disciples of Jesus before his resurrection and saw him alive immediately after: Matthew, John and Peter, while Paul and James only witnessed the risen Christ after his resurrection [source].
Mark, Luke and Jude were contemporaries of Jesus and close associates of the apostles, but it doesn't seem clear that they were actual witnesses of the resurrection of Christ, whether literally in the flesh, or in vision. So we have the words of five men who claimed to be witnesses of the events and then three others who were solid contemporaries of these men and strong believers.
Since we know of no records that Jesus himself authored, this means that the only way that anyone can believe that Jesus Christ actually resurrected is by trusting that the words of 5 witnesses and 3 of their contemporaries are indeed true.
Now, to a non-believer this probably looks very sketchy but let's examine things a little further.
According to Matthew, Jesus Christ said: "He that receiveth you receiveth me, and he that receiveth me receiveth him that sent me" (10:40).
Paul, a witness of Christ also taught this principle when he wrote, "How then shall they call on him in whom they have not believed? and how shall they believe in him of whom they have not heard? and how shall they hear without a preacher? And how shall they preach, except they be sent? as it is written, How beautiful are the feet of them that preach the gospel of peace, and bring glad tidings of good things!" (Romans 10:14-15)
According to these men, you must receive them and their testimonies in order to receive Christ and the Father. It would be impossible to exercise faith in Jesus Christ without their words and witnesses, and this is right in line with the revelatory pattern God has established, but how do you confirm their words? Did these men teach us to simply blindly follow their words, trusting our salvation in the arm of flesh and testimonies of men?
No, they did not.
The Solution
According to John, Jesus Christ taught that he would send another witness: the Holy Ghost.
"But the Comforter, which is the Holy Ghost, whom the Father will send in my name, he shall teach you all things, and bring all things to your remembrance, whatsoever I have said unto you." (John 14:26) "But when the Comforter is come, whom I will send unto you from the Father, even the Spirit of truth, which proceedeth from the Father, he shall testify of me:" (John 15:26)
On the day of Pentecost, Peter declared that the prophecy of Joel was fulfilled that said: "And it shall come to pass in the last days, saith God, I will pour out of my Spirit upon all flesh:" (Acts 2:17) and when they heard Peter's words "they were pricked in their heart" (Acts 2:37).
In the ministry of Stephen he contended with a group at a synagogue who "were not able to resist the wisdom and the spirit by which he spake" (Acts 6:10). So they brought him to the counsel and much like Jesus' story, "set up false witnesses, which said, This man ceaseth not to speak blasphemous words against this holy place, and the law: (Acts 6:13). But Stephen's words were being sustained by the Spirit and the accusers didn't like it, "When they heard these things, they were cut to the heart, and they gnashed on him with their teeth" (Acts 7:54) and so great was their resistance to the Spirit that "they cried out with a loud voice, and stopped their ears" (Acts 7:56) when they heard Stephen declare "I see the heavens opened, and the Son of man standing on the right hand of God" (Acts 7:56).
It was hard for many to believe Paul when he declared that Jesus Christ appeared to him as well, but Paul didn't expect people to just believe his words on blind faith. He wrote to the Saints in Corinth that "my speech and my preaching was not with enticing words of man's wisdom, but in demonstration of the Spirit and of power: That your faith should not stand in the wisdom of men, but in the power of God" (1 Cor. 2:4-5).
He wrote that the wisdom of God is a hidden wisdom and that although we do not see or hear the things that God has prepared for us, "God hath revealed them unto us by his Spirit: for the Spirit searcheth all things, yea, the deep things of God" (1 Cor. 2:10). He taught further that the "things also we speak, not in the words which man's wisdom teacheth, but which the Holy Ghost teacheth; comparing spiritual things with spiritual. But the natural man receiveth not the things of the Spirit of God: for they are foolishness unto him: neither can he know them, because they are spiritually discerned" (1 Cor. 2:13-14). Paul also taught that "no man can say that Jesus is the Lord, but by the Holy Ghost" (1 Cor. 12:3)
In the Epistle of James (which is one of the earliest New Testament books written) chapter 1, verse 5 he wrote: "If any of you lack wisdom, let him ask of God, that giveth to all men liberally, and upbraideth not; and it shall be given him".
According to Matthew, Jesus Christ himself taught, "Ask, and it shall be given you; seek, and ye shall find; knock, and it shall be opened unto you: For every one that asketh receiveth; and he that seeketh findeth; and to him that knocketh it shall be opened…how much more shall your Father which is in heaven give good things to them that ask him?" (Matthew 7:7-8,11) and then in another place, "And all things, whatsoever ye shall ask in prayer, believing, ye shall receive." (Matthew 21:22)
The Pattern
The pattern is simple: God sends witnesses so that his people may know the truth and that personal revelation from God can confirm the truth of things to the believer that asks.
It is by this pattern, that I came to the knowledge that Jesus Christ did indeed rise from the dead. Back when I was a teenager and was digging deeply into the New Testament, I came to Luke 24:6 and read these seven words, "He is not here, but is risen". There, all alone and independent of anyone else, the light of the Spirit came into my mind in a way that I had never experienced and I knew that these words were true.
I can't explain how this happened or how it works other than I had a real experience that I understood more as I saw other accounts of the same thing in scripture. It wasn't a feeling, it wasn't a "burning in the bosom" or like any emotional experience that watching a movie or getting involved in a good book had delivered. I actually sensed the presence of an external influence upon my consciousness, that like light, allowed me to receive knowledge in a way previously foreign to my experience. This is as close as I can come to describing it and I knew then why Paul wrote that "the natural man receiveth not the things of the Spirit of God: for they are foolishness unto him: neither can he know them, because they are spiritually discerned" (1 Cor. 2:14).
The Grove
Is it really that big of a stretch to believe that it is possible for Jesus Christ to appear to a teenage boy in 1820 in a vision very similar to Stephen or Paul's vision? Is it shocking to find that people were skeptical of them too and that Joseph Smith's fate was much like Stephen's and the rest of the apostles: death, often at the hands of a ruthless mob?
We have the New Testament books and very little external evidence or other witnesses to corroborate the accounts of the authors. What about the accounts of critics contemporary to the to the New Testament authors? Today the average person is left to examine primarily the New Testament author's accounts of what happened.
We don't have that "luxury" with Joseph Smith and much of the restoration. We have witnesses of many, many things relating to the restoration that are open to our consideration, many of which are assumed accurate and others that are deliberate frauds either for or against. Having external witness accounts creates its own set of problems; you are still left with the issue of which witnesses to trust.
If all the esteemed Jewish leadership, the soldiers who were at the tomb and several more 'witnesses' all declared that Jesus' body was stolen, the whole thing was a fraud, that Jesus used 'magical' Satanic powers to work supposed 'miracles', that he violently attacked people peacefully assembled at the temple and taught some 'other gospel' that was not found in the Old Testament, what would you have thought about Jesus at the time?
It's something interesting to think about. We all like to think that we would have followed Christ or joined with his apostles and believed this new, suspicious and highly persecuted religion.
Let's return to the story of young Joseph Smith. I had an experience that mirrored my experience with Luke 24:6 but it was related to Joseph Smith's personal account of what happened in that grove of trees that day. The Holy Spirit testified that God the Father and Jesus Christ were indeed there that day and that this event, just like the resurrection, did happen.
See the story isn't about Matthew, John, Paul, Stephen or even Joseph for that matter, it is about Jesus Christ and him working in this world and who is or is not a true witness of his works. It is about knowing what is or is not under his direction or influence and he has given us the way to know. Joseph Smith is actually a perfect example of how this pattern is followed which is one reasons we study his experiences. In his own words, he wrote:
"While I was laboring under the extreme difficulties caused by the contests of these parties of religionists, I was one day reading the Epistle of James, first chapter and fifth verse, which reads: If any of you lack wisdom, let him ask of God, that giveth to all men liberally, and upbraideth not; and it shall be given him.

Never did any passage of scripture come with more power to the heart of man than this did at this time to mine. It seemed to enter with great force into every feeling of my heart. I reflected on it again and again, knowing that if any person needed wisdom from God, I did; for how to act I did not know, and unless I could get more wisdom than I then had, I would never know; for the teachers of religion of the different sects understood the same passages of scripture so differently as to destroy all confidence in settling the question by an appeal to the Bible.

At length I came to the conclusion that I must either remain in darkness and confusion, or else I must do as James directs, that is, ask of God. I at length came to the determination to "ask of God," concluding that if he gave wisdom to them that lacked wisdom, and would give liberally, and not upbraid, I might venture." (Joseph Smith History 1:11-13)
Joseph Smith then describes how he went out into a grove of trees by his home and offered the desires of his heart to God. He explains that he was immediately seized upon by a dark force that sought to bind his tongue and perhaps even destroy him. It is at the moment of the greatest darkness that he records:
"…I saw a pillar of light exactly over my head, above the brightness of the sun, which descended gradually until it fell upon me. It no sooner appeared than I found myself delivered from the enemy which held me bound. When the light rested upon me I saw two Personages, whose brightness and glory defy all description, standing above me in the air. One of them spake unto me, calling me by name and said, pointing to the other—This is My Beloved Son. Hear Him!" (Joseph Smith History 1:16-17)
I had received a witness from the Holy Spirit that this event, like the resurrection of Christ, was true and really happened.
Another Experience
Much like the experiences recorded in the New Testament, I had an amazing experience while serving as a brand new missionary up in Idaho. This event was partially recorded in a quickly written journal entry on February 1st, 2000. As I reflected on my journal over the years, I noticed how many things that I had left out and how many experiences I did not record because they felt too sacred at the time.
In 2011, I wrote a book containing my memoirs of the events that happened in the mission field and explained many things in great detail that were not included in my original journal. I decided to record the events while they were still fresh in my mind before too many years passed. The following is a quotation from my book with the full names of individuals removed for privacy:
Several days later we were called and told that we had someone the Bishop wanted us to teach. This would be another life-changing experience that I think had a profound impact on Elder Rogers.

Bishop Leavitt's wife was driving down the road and spotted a young woman with a child walking in a bad part of town. She felt like she needed to stop and ask if they needed anything. The woman was living with her boyfriend who happened to be an inactive member of the church and they were homeless. The Bishop's wife invited them to their home to get out of the cold and to see what they could do to help.

The Bishop helped the young man find a job and after some discussion counseled the young man that it would be best for him to be properly married to this young woman that he had fathered a child with. The young man, John used to be an active member of the church and the young woman, Amber was staying with the family. Well, John and Amber fell in love and ran off together four years earlier and had been pretty much living on their own and on the street for that time.

They had made a decision to turn back to the Lord and Amber had really expressed an interest in religion. That's when the Bishop's wife happened upon her on the street. They were married by the Bishop the night before our first discussion.

We arrived on a cold night and kicked the snow off of our soaked shoes and entered the warm house. John and Amber were there along with Sister Leavitt; we were told that the Bishop was at a meeting at the church and would be joining us when he was finished and to not wait for him. We had an opening prayer and began to teach. We taught Amber about God, that he is our Father and we are his children, about Jesus Christ and his mission to redeem us from the fall. We spoke of God's pattern of calling prophets to bring the truth unto man and how the Holy Spirit confirms the truth to the humble seeker of it.

It was then my turn. I was to share the experience that made us different, the experience that changed the world and was the reason we stood there that night; the amazing, and profound story of a boy named Joseph Smith. I related the story about how he was searching for truth among the churches of the day and wanted to join one, but could not decide. One day, he came across a Biblical verse that told the reader to ask God if they need wisdom; and that's what he did. What happened was certainly not what he expected and certainly not what the world expected. Yet it happened.

I shared the experience as Joseph related it in his own words: "I saw a pillar of light…" then it happened. Something seemed to simultaneously drain then fill the room. There was a glow, hard to describe because you could almost see it and you could most certainly feel it. There was a power, unseen yet warm, that filled every crevice of that room. It was light, and love, and truth. It was the Spirit of God, unmistakable, it was to me, like the day of Pentecost and I could not speak for the joy that had come over me and all of us there. There was not a dry eye, no words were spoken, and the Spirit of the Lord was speaking everything that needed to be said.

Now it would be easy to assume that we were all caught up in the emotion of it all, one might come to that conclusion. But this was not the case, this was not of this world and it was further evidenced by what came next; something I'm sure that only I saw, that was meant for me to see. The Spirit of the Lord still powerful in that room was not interrupted as the front door opened.

I saw the Bishop enter as I looked past John and Amber to the opposite wall and saw him kicking the snow off his shoes. There were two French doors that were closed that separated the room we were in from the front door. The Bishop never looked up as he cracked open the French doors and stepped into the room and froze in his tracks. Still looking down, his shoulders dropped and he slowly made his way to the fireplace and sat down. As he lifted his head, his eyes looked into mine and they were full of tears.

No one had spoken since he had come inside and he hadn't noticed anything until he set foot in the room. He didn't even know what was going on but I saw what happened. The power of the Holy Spirit in that room was such that when he walked in, he was overcome by it and it brought him to tears.

The first one to break the silence was Amber. She stated: "I feel the Spirit so strong right now." We then were able to speak and confirmed what we had experienced and finished our discussion. Amber…was baptized on February 12th 2000. (Black Name Tag, pgs. 27-28)
There are many, many other experiences like this that followed in my life to witness of various truths concerning God and his influence in this world. The knowledge that a resurrected Jesus Christ stood in a tomb and in a grove have continually influenced life and all those who humbly seek with real intent.
I offer my personal witness that while the accounts of these events were delivered by imperfect men – I can declare before the world that I know they happened, the power of the Holy Ghost bearing witness of it.
What do you think?
What is the significance of the first vision in your opinion?

How has the principle of witnesses allowed you to receive knowledge from God?
Share your witness of the empty tomb, the vision in the grove or both.