There is a lot to unpack here so first I just want to make a few things clear. I very rarely comment on news of the day type stuff because most of it is just noise.
I prefer to focus on doctrine and principles of the gospel, good things that can inspire anyone. I think the world needs that, I need that, and this blog has been a place for it.
I'm still going to try to stick to that but on this rare occasion, I feel like there are some doctrinal angles worth exploring regarding this recent message from the first presidency. A lot of people are conflicted about this and it saddens me to see so much divisiveness and conflict.
I honestly hate all the confusion around Covid with a burning passion. I'm sick of it, I've been literally sick from it, but it's a reality of the world, and we are struggling with how to understand and deal with it.
We were born for these times, thus God has equipped us with what we need to handle them.
I have reached a point of peace and I would like to share my thoughts. Not everyone will agree with me and I'm fine with that, each person can decide for themselves what they want to think. This is my blog and features my thoughts alone, take it or leave it.
Here is the full message from the first presidency
The First Presidency of The Church of Jesus Christ of Latter-day Saints sent the following message on Thursday, August 12, 2021, to Church members around the world:

Dear Brothers and Sisters:

We find ourselves fighting a war against the ravages of COVID-19 and its variants, an unrelenting pandemic. We want to do all we can to limit the spread of these viruses. We know that protection from the diseases they cause can only be achieved by immunizing a very high percentage of the population.

To limit exposure to these viruses, we urge the use of face masks in public meetings whenever social distancing is not possible. To provide personal protection from such severe infections, we urge individuals to be vaccinated. Available vaccines have proven to be both safe and effective.

We can win this war if everyone will follow the wise and thoughtful recommendations of medical experts and government leaders. Please know of our sincere love and great concern for all of God's children.

The First Presidency

Russell M. Nelson
Dallin H. Oaks
Henry B. Eyring

https://newsroom.churchofjesuschrist.org/article/first-presidency-message-covid-19-august-2021
I was actually about a week into a Covid infection along with my immediate and extended family when this letter came out. We were all affected to various degrees. Two close family members were hospitalized, but they did also have pre-existing health factors that likely contributed to that hospitalization.
Those two family members were in very dire straits and they could have died. Fortunately, they were able to survive, leave the hospital, work on their recovery.
Covid has hit as close to home for me as possible. Even still, I'm not going to be receiving any of the experimental Covid mRNA treatments that are being pushed rather violently upon the world.
Other effective treatments are being intentionally discredited by the media
Yes, the first presidency "urged" individuals to be "vaccinated." They also claimed that protection from the diseases could "only" be achieved by "immunizing a very high percentage of the population."
This seems to indicate that these mRNA treatments are the only way to be protected; this isn't technically true. The vast majority of the population is already immune from Covid or has mild reactions to it.
These experimental treatments were allowed "emergency use authorization" which is conditional upon a couple of points, one being that "there are no adequate, approved, and available alternatives." (FDA)
The truth is that people are being successfully treated with low to no risk methods that are proving very effective, inexpensive, and safe.
You see mentions of these treatments being blocked by big tech and frowned upon by the media. Here's the thing, if these available treatments to Covid exist then it would negate the ability for experimental mRNA treatments to be given emergency use authorization. This would be devastating to the Pharma companies but it seems like the media, big tech, and our elected representatives are all aligned to protect big Pharma's interests.
It's really a mystery why people don't trust them.
Talk show host Joe Rogan recovered quickly from a treatment he explained as consisting of "Monoclonal antibodies, ivermectin, Z-pak, prednisone, everything. And I also got an anti-D drip and a vitamin drip." (Source)
Yet, at the mention of Ivermectin, major news outlets were outraged that he was promoting the ingestion of an "anti-parasitic horse dewormer." Here's a couple of screenshots from various major news outlets working in "Operation Mockingbird" style harmony.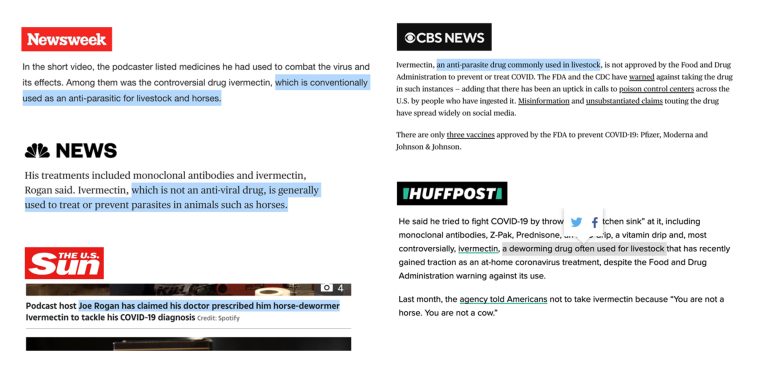 Note that NBC news said that Ivermectin is not an anti-viral drug. This study suggests otherwise:
We report here that Ivermectin, an FDA-approved anti-parasitic previously shown to have broad-spectrum anti-viral activity in vitro, is an inhibitor of the causative virus (SARS-CoV-2), with a single addition to Vero-hSLAM cells 2 h post infection with SARS-CoV-2 able to effect ~5000-fold reduction in viral RNA at 48 h.

https://pubmed.ncbi.nlm.nih.gov/32251768/
I suppose I could pull any study out of the ether to support my point, but that's the problem, so much is unknown but you can't look the other way when the science is backing up these other treatments that seem to be having great success and are saving lives.
Here's what Joe Rogan had to say in response to all of these reports:
"They're making s**t up. They keep saying I'm taking horse dewormer. I literally got it from a doctor. It's an American company (ivermectin). They won the Nobel Prize in 2015 for use in human beings and CNN is saying I'm taking horse dewormer. They must know that that's a lie. A lot of people can say (that I used horse dewormer). The internet says it, who cares? But CNN is saying it, like Jim Acosta (anchor at CNN)." […]

"What (the media) didn't highlight is that I got better," Rogan said. "They tried to make it seem as if I'm doing some whacky s**t that's completely ineffective. CNN was saying that I'm a distributor of misinformation."

https://www.mmanews.com/2021/09/joe-rogan-blasts-cnn-for-making-st-up-about-his-covid-treatment/
I also got an Ivermectin prescription twice, from two different doctors. I picked my prescription up at Walgreens and not Tractor Supply. Here is some of the latest data on how Ivermectin is now being used around the world with incredible results: Link.
These are the protocols I followed when I had Covid: Link. Note that I didn't start these protocols until I was already five days into Covid because I got sick right at the time I discovered them. You want to make sure you are doing the preventative steps and start the regimen as soon as possible if you have a positive Covid test. It might be wise to get a vitamin D test to see where your levels are; half the population is deficient.
I'm not a doctor, so anything I say here you would do well to research on your own very thoroughly. I'm just one guy sharing my view of things and I do think the First Presidency letter is right in indicating that we need to seek out and follow wise recommendations – more on that later.
Masks and Experimental Treatments
They are also claiming that masks offer some kind of protection which you really need to qualify with data. A study published July 21, 2021, states:
…high-efficiency masks, such as the KN95, still offer substantially higher apparent filtration efficiencies (60% and 46% for R95 and KN95 masks, respectively) than the more commonly used cloth (10%) and surgical masks (12%)

https://aip.scitation.org/doi/10.1063/5.0057100
How many people are wearing properly fitted R95 and KN95 masks at church? No, most people are wearing cloth masks that their hands have been all over. Shoved in pockets or dirty car cup holders, these masks get used day in, day out and are filled with moisture from our breath and become Petri dishes for bacteria that we then breathe in our lungs every time we cover our airways.
The masks people are using and the way I see people using them could cause them to breathe in dangerous bacteria and provide a false sense of security against viral infection.
Do the people who are most likely to die from Covid realize the tremendous risk they put themselves in thinking they are safe and protected by using a cloth mask?
The First Presidency letter also claims that available vaccines "have proven to be both safe and effective" but this statement implies that there are no risks – but there are. If I said "Cars are both safe and effective" that's not the whole story. Around 30,000 people per year are killed in cars and much more than that are injured. Everyone knows that when you step into a car, there are risks.
Just in Europe alone, as of Aug 23, there have been 20,595 deaths and 1.9 million injuries from these treatments [link]. There hasn't been enough time to determine the long-term effects of these experimental treatments.
Vaccine injuries are largely unknown because no systems exist for capturing accurate data [link]. Furthermore, the vaccine manufacturers are immune (pun intended) from any responsibility to the people that are damaged by their products.
But like cars, many see these experimental mRNA treatments as 'acceptable risks'.
Look and live?
Now for many people, they read these words are conflicted. I have heard comparisons to Moses and the brazen serpent, just look and live! This is that kind of test, they say, and perhaps our physical and/or spiritual lives could be at stake.
These are serious things that I don't take lightly at all. As a student of the scriptures of course these same patterns came to mind.
Personally, I don't think this Moses and the brazen serpent comparison is applicable at the moment. I get the parallel, but there are some problems with it for me.
The order of the church today is different than how things worked between God and his people in Moses' time. When the restoration church was organized with 5 presiding quorums that checked and balanced themselves to avoid errors made by transgression or otherwise. (D&C 107)
In the restoration church, everything is done by "law of common consent" as a revelation in July of 1830 states, "all things shall be done by common consent in the Church by much prayer & faith."
Common consent is key to understand and I found an excellent explanation in the Doctrine and Covenants student manual:
Elder Bruce R. McConkie explained that "administrative affairs of the Church are handled in accordance with the law of common consent. This law is that in God's earthly kingdom, the King counsels what should be done, but then he allows his subjects to accept or reject his proposals. Unless the principle of free agency is operated in righteousness men do not progress to ultimate salvation in the heavenly kingdom hereafter. Accordingly, church officers are selected by the spirit of revelation in those appointed to choose them, but before the officers may serve in their positions, they must receive a formal sustaining vote of the people over whom they are to preside. (D. & C. 20:60–67; 26:2; 28; 38:34–35; 41:9–11; 42:11; 102:9; 124:124–145.)" (Mormon Doctrine, pp. 149–50.)

Not only are Church officers sustained by common consent, but this same principle operates for policies, major decisions, acceptance of new scripture, and other things that affect the lives of the Saints (see D&C 26:2).

https://www.churchofjesuschrist.org/manual/doctrine-and-covenants-student-manual/section-26-the-law-of-common-consent?lang=eng
While we do sustain church officers, we are not bound by an obligation to follow any of their counsel that could potentially be dangerous to us individually. A broad call for everyone to receive a certain kind of medical treatment does not take into account the individual and their personal circumstances.
I think it is also important to consider the final part of this letter, one particular sentence: "We can win this war if everyone will follow the wise and thoughtful recommendations of medical experts and government leaders."
Moses raised up a single solution and you lived or died whether you looked or not; that's not the case here.
The First Presidency does "urge" the use of masks and "vaccines" but they point us to "follow" recommendations that are "wise and thoughtful" from "medical experts and government leaders."
Since they haven't specified which medical experts and government leaders we are supposed to follow, we are left to decide. Not only that, but we need to be the ones to discern which recommendations are actually "wise and thoughtful."
Placing a false sense of security in measures like cloth masks doesn't sound wise to me. And if the reasoning around something that simple is flawed, I'm going to call into question something far more complex like letting Pharmaceutical companies modify my DNA.
The word wise is defined in part as "having the power of discerning and judging correctly, or of discriminating between what is true and what is false;"
I think it is absolutely a good thing to encourage us to follow wise medical counsel and I don't have a problem with the First Presidency recommending that we do so.
But so many people seem to interpret this letter as a live or die commandment to go out and get these mRNA treatments, whatever their medical circumstances.
As for me, I'm relatively young and very healthy, people in my category have a 99.9%+ survival rate from this disease. Having had Covid my actual survival rate is 100%. I now have a robust natural immunity that is far superior to these mRNA treatments. (Link)
I took President Nelson's advice before this whole Covid thing to "take your vitamin pills" and I had my bloodwork done, found a massive Vitamin D deficiency, and fortified myself accordingly.
I believe that subsequently eating clean as I have for the past 10 years and seeking to complement any deficiencies in my diet with vitamins and supplements fortified me against this illness.
It was not fun to get Covid, I think that I had a more prolonged experience because I didn't get some of the particular treatments I needed in time. I had a massive loss of energy that rendered me pretty useless and a severe loss of appetite which didn't help my condition but I was never in any fear of death. I was monitoring my blood pressure and blood oxygen and they remained in normal ranges.
I followed wise protocols that I believe helped pull me through without requiring hospitalization.
Thus far, I have done my best to follow wise recommendations of medical experts and I have listened to many on all sides.
My conclusion is that it would be unwise to put my body in the hands of companies that I do not trust, that have no liability, and that have done evil and unethical things in the name of profit. Especially since there are so many natural preventatives and treatments that support your own natural immune system in fighting this very survivable infection.
You need to be wise in who you listen to because many of these medical and government leaders, including the media and big tech are pushing the agendas of these companies and are straight-up lying to do so.
Big tech is silencing dissent and governments are violating human rights using this whole situation as an excuse. Anyone who knows the scriptures understands that secret combinations have taken over virtually everything and that global depopulation is part of their plan. The scriptures detail it all, we know their plans and we can see them in motion.
I have major reasons to not trust some people, and to exercise caution from other medical experts who I feel have very valid concerns about these treatments and their potential to cause massive long-term negative health effects.
I've had Covid, my body fought it, and won because I strengthened my immune system by following wise medical advice, the Word of Wisdom, and by being in an age that is in a very low-risk group. I can't discount the many prayers and blessings that I felt carried me through as well.
Did I not follow wise medical procedures and was protected? Did I not "look and live?"
On our relationship with church leaders
For a long time, I have tried to understand the dynamics at play when it comes to my relationship with God and the servants that are sent or sustained as officers by common consent.
I think that I have already explained that this First Presidency letter is reasonable and easy to understand, but it is being misunderstood and twisted by many.
I also want to point out that not everything that comes from our presiding councils is the unfiltered word of God. I have no problem sustaining the current leaders in that I want to support them and see that they succeed, but they are mortal men capable of error and we are capable of misinterpreting them.
Now, the very fact that we "sustain" our leaders implies that they are capable of error. The word sustain means "to keep from falling." There is no point in sustaining an infallible figure, it would be a contradiction.
In D&C 107, it is written that "The decisions of these quorums, or either of them, are to be made in all righteousness, in holiness, and lowliness of heart, meekness and long-suffering, and in faith, and virtue, and knowledge, temperance, patience, godliness, brotherly kindness and charity;" (vs. 30)
However, they can make errors, even unrighteous ones:
"And in case that any decision of these quorums is made in unrighteousness, it may be brought before a general assembly of the several quorums, which constitute the spiritual authorities of the church; otherwise there can be no appeal from their decision."

(vs.32)
Yes, it is even possible that the president of the church can transgress.
"And inasmuch as a President of the High Priesthood shall transgress, he shall be had in remembrance before the common council of the church, who shall be assisted by twelve counselors of the High Priesthood; And their decision upon his head shall be an end of controversy concerning him. Thus, none shall be exempted from the justice and the laws of God, that all things may be done in order and in solemnity before him, according to truth and righteousness."

(vs.82-84)
Now I want to state unequivocally so that there is no misunderstanding that I am absolutely NOT accusing the first presidency of being unrighteous, transgressors, or bad people.
I am only showing here that it is doctrinally correct to understand that, by design, our church is to be led by mortal men who are prone to mortal error. This is how God intends it and it is for a wise purpose.
With that knowledge, I understand that I should listen to all counsel, but I have to factor in common consent, the Spirit, or what wisdom dictates.
In this church of mortals, there is always more going on behind the scenes.
Back in an Improvement Era church magazine from 1945, there was an article titled "Sustaining the general authorities of the church" which was the "ward teaching" message for the month. That article contained among other things the following words:
Any Latter-day Saint who denounces or opposes, whether actively or otherwise, any plan or doctrine advocated by the "prophets, seers, and revelators" of the Church is cultivating the spirit of apostasy. One cannot speak evil of the Lord's anointed and retain the Holy Spirit in his heart. […] When our leaders speak, the thinking has been done. When they propose a plan–it is God's plan. When they point the way, there is no other which is safe. When they give direction, it should mark the end of controversy. God works in no other way. To think otherwise, without immediate repentance, may cost one his faith, may destroy his testimony, and leave him a stranger to the kingdom of God.
It appears that for many members this is the feeling they have in regards to this latest first presidency letter. The letter came out, the thinking was done, there is no other way. But, as already demonstrated, that's not what the letter said at all.
The story behind this article continues, because of Dr. J. Raymond Cope, the leader of the First Unitarian Society in Salt Lake City who wrote to President George Albert Smith at the time expressing concern with this article. He said:
Last June there was delivered to my door a short religious editorial, prepared by one of your leaders, entitled "Sustaining the General Authorities of the Church." Its message amazed me a great deal, and with the passing of weeks my distur[b]ance became very acute. It might have passed, except that several members of your Church have come to me to discuss the subject. The most recent was a prominent doctor, who, because of this tract, he affirms, is losting [sic] his religious faith. He is a large man, and I became impressed with his deep sincerity as he broke down and wept like a boy. I am convinced that he is undergoing a very dangerous experience.
D. Cope continues…
Several years ago, when I first became acquainted with the L.D.S. Church, I read extensively in the texts, and there are many passages which may be used to give a better expression to the vision and genius of your Faith. I cite but one, although there are many others which are familiar to you.

Quoting from the Discourses of Brigham Young, as Selected and Arranged by John A. Widtsoe, in the Chapter on "The Priesthood":

"I am more afraid that this people have so much confidence in their leaders that they will not inquire for themselves of God whether they are led by him. I am fearful that they settle down in a state of blind self-security, trusting their eternal destiny in the hands of their leaders with a reckless confidence that in itself would thwa[r]t the purposes of God in their salvation, and weaken that influence they could give their leaders did they know for themselves, by the revelations of Jesus, that they are led in the right way. Let every man and woman know, by the whisperings of the Spirit of God to themselves, whether their leaders are walking in the path the Lord dictates, or not."

This quotation from Brigham Young is a wonderful passage, and it has been on the basis of such freedom that persons like myself have grown to have a deep feeling of kinship with the L.D.S. Church. It is in keeping with the high traditions of my Unitarian background that the gains made by my fellow workers are seen as gains for us all. It is a source of regret to all of us when one stone is discovered to bar the way to deeper faith within any soul.
President Smith replied to Dr. Cope and I'm going to post the entirety of his response here because I think every part of it is important:
My dear Dr. Cope:

I have read with interest and deep concern your letter of November 16, 1945, in which you make special comment on "a short religious editorial prepared by one of your (our) leaders entitled "Sustaining the General Authorities of the Church'". You say that you read the message with amazement, and that you have since been disturbed because of its effect upon members of the Church.

I am gratified with the spirit of friendliness that pervades your letter, and thank you for having taken the time to write to me.

The leaflet to which you refer, and from which you quote in your letter, was not "prepared" by "one of our leaders." However, one or more of them inadvertently permitted the paragraph to pass uncensored. By their so doing, not a few members of the Church have been upset in their feelings, and General Authorities have been embarrassed.

I am pleased to assure you that you are right in your attitude that the passage quoted does not express the true position of the Church. Even to imply that members of the Church are not to do their own thinking is grossly to misrepresent the true ideal of the Church, which is that every individual must obtain for himself a testimony of the truth of the Gospel, must, through the redemption of Jesus Christ, work out his own salvation, and is personally responsible to His Maker for his individual acts. The Lord Himself does not attempt coercion in His desire and effort to give peace and salvation to His children. He gives the principles of life and true progress, but leaves every person free to choose or to reject His teachings. This plan the Authorities of the Church try to follow.

The Prophet Joseph Smith once said: "I want liberty of thinking and believing as I please." This liberty he and his successors in the leadership of the Church have granted to every other member thereof.

On one occasion in answer to the question by a prominent visitor how he governed his people, the Prophet answered: "I teach them correct principles, and they govern themselves."

Again, as recorded in the History of the Church (Volume 5, page 498 [499] Joseph Smith said further: "If I esteem mankind to be in error, shall I bear them down? No. I will lift them up, and in their own way too, if I cannot persuade them my way is better; and I will not seek to compel any man to believe as I do, only by the force of reasoning, for truth will cut its own way."

I cite these few quotations, from many that might be given, merely to confirm your good and true opinion that the Church gives to every man his free agency, and admonishes him always to use the reason and good judgment with which God has blessed him.

In the advocacy of this principle leaders of the Church not only join congregations in singing but quote frequently the following:

"Know this, that every soul is free

To choose his life and what he'll be,

For this eternal truth is given

That God will force no man to heaven."

Again I thank you for your manifest friendliness and for your expressed willingness to cooperate in every way to establish good will and harmony among the people with whom we are jointly laboring to bring brotherhood and tolerance.

Faithfully yours,

Geo. Albert Smith

https://www.fairlatterdaysaints.org/archive/publications/when-the-prophet-speaks-is-the-thinking-done
Now the reason I share this is because it seems that there is this feeling by members of the church if they don't do exactly what the leaders of the church say at all times that they are wicked or their souls are in jeopardy.
President Smith made it clear that this is not the case. While the first presidency has the right to provide guidance to the church and act as prophets, seers, and revelators, this doesn't mean that every letter, every word, every proclamation is a prophecy, hidden wisdom, or revelation.
Helmuth Hübener
As the story goes, young Helmuth, who had only been a member of the church for 2 years, observed a local leader ban Jews from attending their services. He didn't like this but continued to attend anyway.
This issue caused ongoing debate and he was later recruited into a resistance movement. He began listening to "enemy" radio broadcasts which were forbidden as a form of treason. He composed anti-Nazi texts and leaflets to try and get the truth out.
One of his leaflets read:
German boys! Do you know the country without freedom, the country of terror and tyranny? Yes, you know it well, but are afraid to talk about it. They have intimidated you to such an extent that you don't dare talk for fear of reprisals. Yes you are right; it is Germany – Hitler Germany! Through their unscrupulous terror tactics against young and old, men and women, they have succeeded in making you spineless puppets to do their bidding".

Blair R. Holmes and Alan F. Keele (1995). When Truth Was Treason: German Youth against Hitler. Urbana: University of Illinois Press. ISBN 0-252-06498-4.
On 11 August 1942, at age 17 he was tried and found guilty of treason. After his sentence, this stud turned to the judges and said:
Now I must die, even though I have committed no crime. So now it's my turn, but your turn will come.
His sentence permanently stripped him of his civil rights so the guards were allowed to torture, abuse him, and deny him blankets or bedding.
He was shortly after beheaded by guillotine.
The local branch president Arthur Zander, who was a supporter of the Nazi Party, claimed to have posthumously excommunicated Helmuth, but this was all sorted out four years after the war. He was vicariously rebaptized, ordained an elder, and endowed in 1948.
In an article published in the Deseret News, both Hitler, Goebbels, and the Nazis were praised for their principles that appeared closely aligned to the Word of Wisdom.
These two colorful leaders (Adolf Hitler and Joseph Goebbels) of the new Germany, in their gigantic struggle for political supremacy have needed capable bodies and clear brains and have trained like athletes. Their very popularity is making intemperance more unpopular. The fact that they are worshipped may be one big reason for a growing dislike for smoking and drinking in Germany today.

Mormonism in the New Germany. Deseret News Dec 9, 1933. LINK
Clearly, this didn't age well. Even though the first concentration camp was established earlier that year (Source) but, hey, great job on mirroring principles in the Word of Wisdom!
It is unknown if the leaders of the church or our nation had any idea what Hitler would eventually do. At the time and even today, the church encourages people to obey the laws of their respective countries.
That created a massive paradox for members in places like Nazi Germany who had to choose between applying this church policy of obeying the law of your country or standing up for godly truth. Many in the church no doubt feel a similar conflict today when it comes to Covid and some of the policies our governments are enforcing.
We seem to go right to Article of Faith 12 and that's the end of it.
We believe in being subject to kings, presidents, rulers, and magistrates, in obeying, honoring, and sustaining the law

Article of Faith 12
We proof-text that verse to our own demise. Doctrine and Covenants 134:5 clarifies our obligations:
We believe that all men are bound to sustain and uphold the respective governments in which they reside, while protected in their inherent and inalienable rights by the laws of such governments; and that sedition and rebellion are unbecoming every citizen thus protected, and should be punished accordingly; and that all governments have a right to enact such laws as in their own judgments are best calculated to secure the public interest; at the same time, however, holding sacred the freedom of conscience.

D&C 134:5
Please note the extremely important qualifying phrases "while protected" and "thus protected."
We are only bound to sustain and uphold our respective governments if they are protecting our inherent and inalienable rights. If we as citizens are not "thus protected", then sedition and rebellion are very much on the table; Declaration of Independence anyone?
Like Helmuth Hübener, we have an individual obligation to the truth and I think that the First Presidency respects that in their letter while also trying to signal cooperation with government policies around the world for the time being.
While the church newspaper went from praising the dietary practices of Hitler and Goebbels before their full evil was unleashed upon the world. It's possible that we could be in a similar situation where there is positive support for these mRNA treatments only to be followed by increased horrific side-effects, draconian laws, persecution, concentration camps, and even full-on war.
Or this whole Covid thing could vanish like these other virus threats of the past and we could return to our previous rate of liberty loss and expansion of secret combinations.
While the church could offer more clarity on the letter, I think it is clear enough. I just think we need to stop going at each other's throats and act like saints instead of a social media comments section.
I know many good and intelligent people that saw this letter as a call to "look and live" and exercise faith. I think that God sustains all genuine acts of faith; he knows our hearts.
Maybe we have the Moses story out of sequence. What if these shots are the modern equivalent of the initial snakes that bite and poison the people and the call to "look and live" is still a future event? Personally, I see a syringe and the fang of a serpent as a closer parallel.
I believe that God will uphold the righteous no matter what side of this issue that they come down on. It does no good to have faithful people fighting and judging one another.
Let's be peacemakers and find the way to peace in all our interactions.
Let's truly love one another and not allow our feelings to be infected by the venom of the great and spacious media.
Again, no matter the subject, everything always circles back to the simple principles Christ taught.
I could say more, but I think I've said more than enough for now.
Feast on the Book of Mormon and Isaiah. These are the last days and those are going to be your keys to see your way through it. See the world through these two lenses, or walk blindly.
Updates
Because we are seeing mass human medical experimentation, the news and scientific research concerning Covid is changing constantly. I didn't intend this to be a scientific post, and I now regret trying to make sense of a moving target, but I'm going to do my best to keep the info here updated as things develop. In the meantime, I think the doctrinal issues will outlast the scientific ones for reasons I think are obvious to the faithful.
Updated 9/20/21 changed the phrase "gene therapies" throughout to "mRNA treatments." Although the definition of "vaccine" has been vastly broadened recently to include mRNA treatments, it is important to understand that mRNA treatments do not function the same way a traditional vaccine does. The mRNA treatments were only designed to lessen symptoms and not to confer immunity or prevent the spread of the disease.